Hair root
Application of hair root samples
Hair root samples are a good starting material in horses and camels. Here, thick, easily accessible hairs with prominent hair follicles can be found.
Sample collection kit
As part of an order via our webshop, you can order a sample collection kit free of charge from an order value of 99 EUR per animal. The sample collection kit contains:
Sample card for taping the hairs
Instructions for sample collection
Return envelope
Preparation without sample collection kit
You will need:
Sheet of paper
Adhesive tape
Sample sending form
One envelope per animal
If available: order number in case of previous online order
Label the sheet of paper with the following information:
 
Name of the animal
Name of the owner
Date of sample collection
Order number if previously ordered online
Sample collecting
Pluck 30 to 40 mane or tail hairs. Make sure that there is a follicle (hair root) on each hair. Important: The hairs must be pulled out and not cut off (see picture).
Fix the hair to the paper with an adhesive tape. Please make sure that the adhesive tape does not touch the follicles.

Put the sheet with the glued-on hairs plus the accompanying cover letter into the envelope.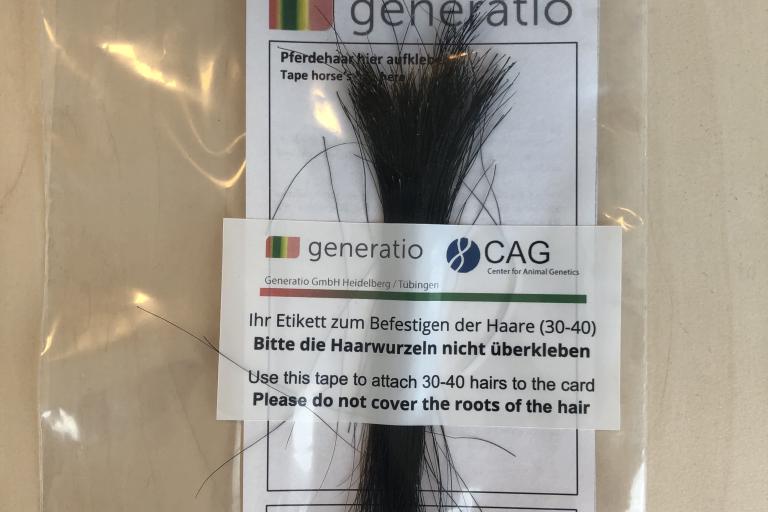 Ready to ship hair root sample
The hair is taped to the submission sheet and packed in a zip-lock bag.