Ordering using the Webshop
The easiest way to order a test is via our online shop. Here you can choose between a large number of tests for hereditary diseases, characteristics or for DNA Identification and parentage testing.
This post will show you step by step how to place an online order.
Veterinarians and members of breeder associations may be eligible for discounts on some tests. Please contact us before placing an order to see if you quality.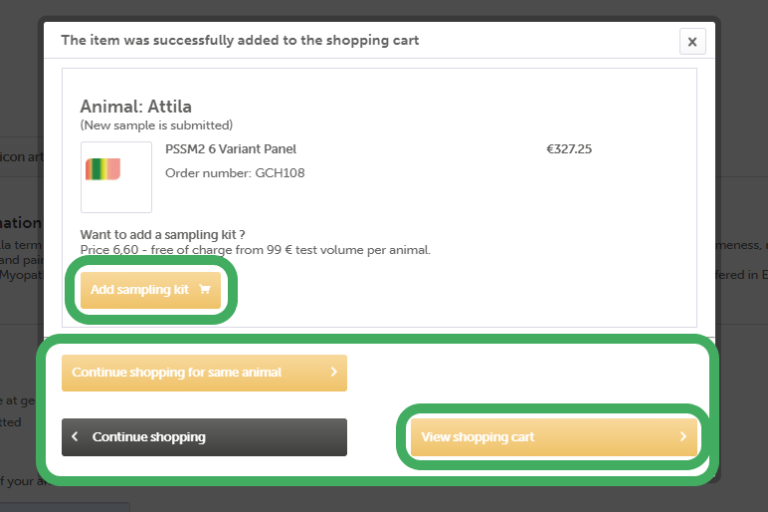 As soon as you have placed the test in your shopping cart, a small window will open automatically. Here you can order a sample kit, which is free of charge for orders of 99 EUR or more per animal.
The sample collection kit is convenient but not mandatory for horse tests!
Additional tests can be ordered for this animal or others. When you have finished choosing your tests, go into your shopping cart by clicking "View Shopping Cart".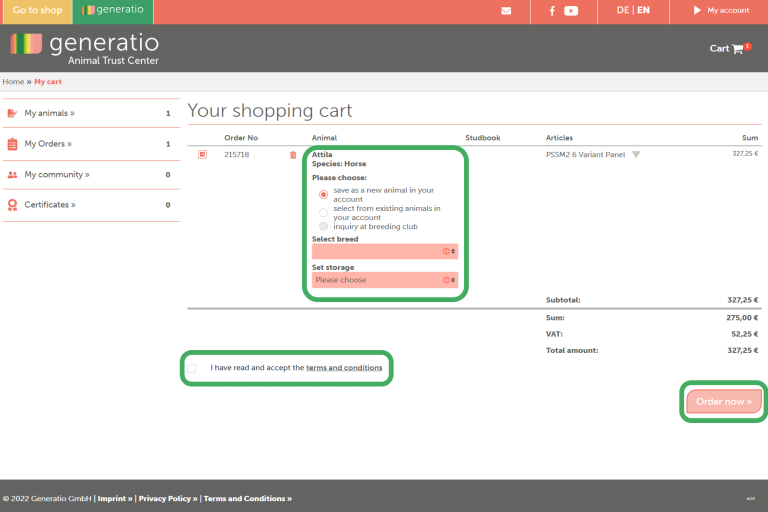 After logging in, your order will be summarized again on the following page. Here you have to provide three details about the animal and the storage of the sample and then you can click on "Order now". You will now be automatically forwarded to the payment options. Please follow the instructions.
In the case of new customers, open customer data may be requested.
Please check the terms and conditions that you have read and accept them.
If all the required information is available, the button "Order now" becomes active. Clicking takes you to the payment options, please follow the instructions.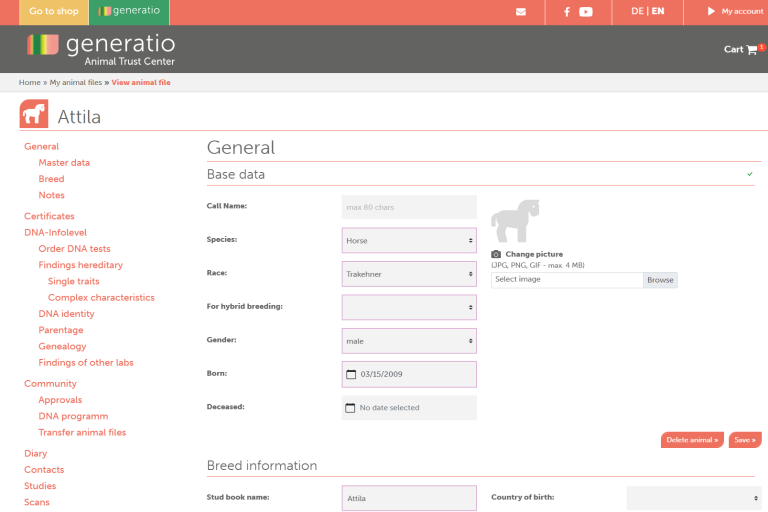 Please fill out all the animal information possible. If necessary, you can come back to the record after you have retrieved the animal passport, for example. Changes can only be made until the certificate is issued. You are responsible for the accuracy of the information you provide.
Important data will appear on the certificate of results.  After the certificate has been issued, changes are only possible with great effort and are associated with costs!
You will later find all the certificates and results in this animal file and you can use other functions of the Animal Trust Center (ATC).