« Back to the lexicon overview
Fascinating coat colours Horse
Origin of the colours
Which coat colour a horse will show is already defined during embryogenesis. Instructions are coded within a horse's genome. Coat colours are determined by many different genes which influence each other. To this point, mutations in 11 different genes are known to influence a horse's coat colour. These genes are active in different developmental stages of the embryo development and are responsible for several defined tasks. Changes within these stages or tasks result in different coat colours and patterns.
Base Colours: Chestnut, Bay and Black
Melanocytes produce two different pigments: Eumelanin (black pigment) and Pheomelanin (red pigment). The amount and ratio of pigments stored in the hair determines the coat colour and shade. Production and transportation of pigments are regulated by two genes: The Extension gene (E) and the Agouti gene (A).
The Extension gene (E) codes for the production of the black pigment Eumelanin. At least one allele needs to be functional (EE or Ee). If both alleles are non-functional (ee), melanocytes are not able to produce the black pigment. In this case the horse will display the base colour "Red" (Chestnut/Sorrel).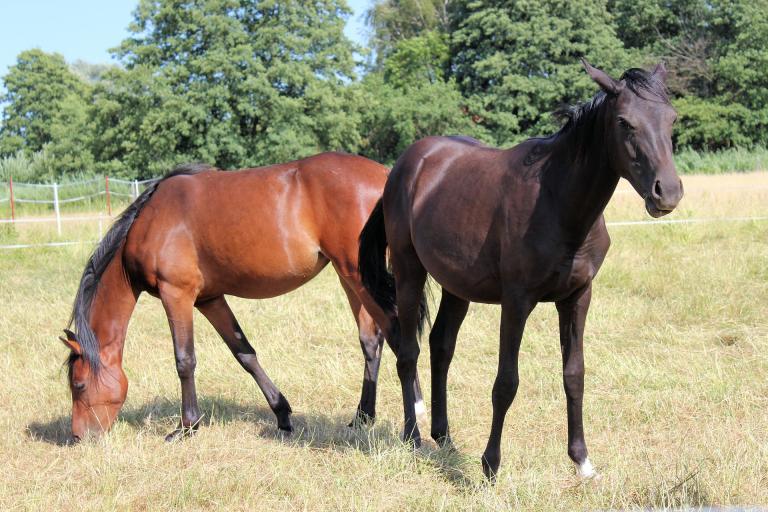 The Agouti gene (A) is responsible for transportation of the black pigment Eumelanin. In "bay" horses the Agouti gene is always functional (AA, Aa). It restricts the Eumelanin to mane, tail, head, ears and limbs. If both copies of the gene are inactive (aa), the black pigment is evenly distributed throughout the entire coat and the horse is "black".
Variations beyond Base Colours
« Back to the lexicon overview